Adopt a Dog
Thousands of dogs are available for adoption and are in need of a forever home. Adopt a dog today and bring home a new member of your family. Adopt a dog and bring joy by giving them a permanent home. Search all dogs and puppys up for adoption in or around your area below. Bring home your new furry family member today. Search thousands of dogs near your area to find the right dog or puppy for you. Start searching now.
e.g. "Miami, FL" or "Miami FL" or "33168"
Data Provided By Petfinder
Animal Articles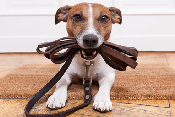 10 Ways to Give Your Dog a Longer, Healthier Life
Dogs aren't called 'man's best friend' for no reason. Any dog owner can attest to how much love and affection dogs offer, and it's only fair that we give them just as much love in return. Thankfully, helping your beloved pet stay healthy and happy is...Read More
SHELTER/RESCUE SEARCH
e.g. "Miami, FL" or "Miami FL" or "33168"