Preparing For Your New Dog
The day that you bring your new dog home is one that will be remembered for a long time, so it makes sense to prepare in advance to make the transition for both you and your new dog as smooth as possible. Whether you are bringing home a puppy or an older dog, there is plenty that you can do ahead of time to make this homecoming a memorable one.
Have All Necessary Supplies Ready
There are some essential items that you will want to have ready. A collar and a leash are a must, of course. Age-appropriate food, along with food and water dishes are vital too.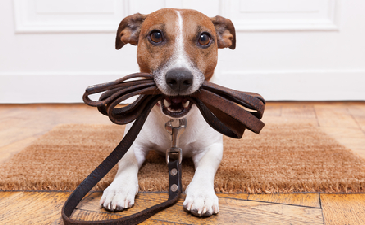 A few dog-safe toys will go a long way in making your new friend feel welcome and relaxed. Identification tags are always a good idea too.
Some Extra Items to Consider
A sturdy brush that is suitable for your dog's coat will come in handy, especially in the spring when shedding begins. Some healthy dog treats are great to have available when training or when you just want to offer a snack.
You may want to consider investing in a dog bed. Dogs often appreciate having a special spot just for them, especially if they are not allowed on the furniture. A couple of books on dog care and training may be useful as well.
Crate training is definitely worth considering, particularly if you will not be able to be at home with your dog all the time. A crate not only keeps your dog safe but also gives him a feeling of security. The crate can also be used in the car to safely transport your furry friend.
Be Sure Your House is Safe
Your new dog may not yet know what is and is not okay to chew, so now is the time to carefully go through each room and try to spot any potential dangers. This is a process similar to baby-proofing a home. Remove any small toys and other choking hazards that are within a dog's reach. Make sure all cleaning agents and chemicals are inaccessible. Electronics and their wiring can pose hazards too, so be certain that they are securely stowed away.
Have a Family Meeting
Make sure that all family members are on the same page so that the new dog will not receive any mixed signals, specifically in regards to training. Now is the time to decide which person will be in charge of which dog duties like daily walks and feedings. Having a plan in place can ensure that the dog acclimates well to his new home.
Get to Know Your Local Veterinarian
Being familiar with your vet and things like vaccination schedules, emergency numbers, flea/heartworm prevention, and fees can save you a lot of time in the future. Knowing what to expect during routine check-ups will make the experience less stressful for you and your dog.
Keep Calm and Be Patient
It is normal to be excited when that long-awaited day finally comes. Try to remember that this is a big day for the dog as well. Let him have some quiet time throughout the day to relax.
Chances are that your dog will make a few mistakes over the next few months. You will too. Be consistent with training and always be patient. Mutual trust and love take time to grow, so enjoy the process!
SHELTER/RESCUE SEARCH
e.g. "Miami, FL" or "Miami FL" or "33168"
Missing a shelter or rescue?
Help us get the word out about more shelters and rescues nationwide.
Submit Here